BlackBerry Messenger (BBM) Rollout
Blackberry Messenger is, of course, the highly anticipated chat application from the Canadian company Blackberry (previously known as Research in Motion).  Originally for Blackberry devices only, the BBM app is now being made available for both iOS and Android.  Blackberry Messenger is seen to be one the very few undisputed advantages that Blackberry 10 has over its competitors and is one of the few features that are mentioned time and time again in support of Blackberry's failing mobile devices.  The download links for BBM are available on both iTunes and the Play Store now, but there is a roughly 24 hour queue to activate the app.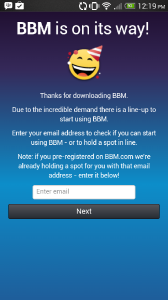 If you are impatient, CNET has posted up a quick solution to skip the line and activate immediately, but I think a more viable solution is to exploit the fact that they only cross reference your email for the queue.  If you enter your friend's email address that has already been used, it'll pass the test as well.  And from that point on, you are free to create a new Blackberry account.
The History
BBM is positioned to compete against the current giants in the field such as WhatsApp, Google Hangouts, LINE, iMessage, Kik, and to a lesser degree instant messengers, text messaging, etc.  With such tough competition, why does Blackberry think it'll succeed?
In short, Blackberry Messenger has a long history and an even longer reputation.  It currently has 60 million users globally on Blackberry devices and in the first 24 hours of the app's release logged another 10 million users.  This pales in comparison to the 350 million that WhatsApp currently holds, but the first 24 hour downloads is record breaking and has immediately put BBM onto the top lists on iTunes.  There is obviously some interest for this chat application.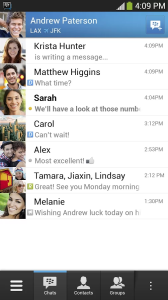 It all stems from the fact that BBM was the first successful instant messenger on phones.  When Blackberry's were still popular, BBM was without a doubt the leading messenger.  While WhatsApp struggled with timely delivery of messages and reliability, BBM was already boasting responsive and smooth messaging and even features such as groups, pictures, calendars, etc.  BBM was without a doubt light-years ahead of its competition, but has since dwindled as the popularity of Blackberry smartphones took a nose-dive.  Despite the fact that BBM's fortunes were tied with Blackberry smartphones, its reputation was not.  Many former Blackberry users still reminisce about their fantastic experience on the messenger and remember that their decision to leave Blackberry was because of the phone, not the messenger.  That appeal means that Blackberry's massive former userbase are more likely and willing to give BBM a shot rather than go out and buy one of their Blackberry 10 smartphones.
While arguably BBM could have gone multi-platform years earlier, the fact is the BBM is one of the few advantages left in Blackberry's latest offerings.  It will be interesting to see how releasing BBM into the wild will affect Blackberry's reputation and sales.
The Appeal
I guess the most important part of the question is why BBM matters when WhatsApp is no longer the unreliable messenger from a number of years ago, nor are the other companies mere start-ups with no more than a small userbase to their names.  Fortunately for Blackberry, BBM still retains the rock solid reliability that made it a hit years ago.
For me, the most important part is the user experience.  The interface on BBM is smooth and responsive and looks professional.  Messaging so far has been quick and I did enjoy the fact that you can tell when your message has been delivered and read.  So from that end, BBM is doing excellent.  I cannot say with hard evidence, but from short usage of it so far, BBM does feel faster than WhatsApp.  That in itself is BBM's great accomplishment.  However, BBM groups have been incredibly useful.  It's starting to become quite common among its competitors, but BBM still has an advantage.  Not only can you form a group and chat in it, share photos, but you can also share lists and appointments.  This will definitely come in handy scheduling a get together or a party.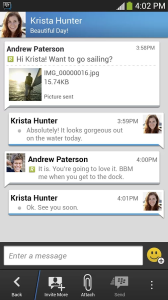 My only complaint so far are the Blackberry PINs.  Instead of sharing your email or phone number, you have to share PINs with your pals to add them to your contact list.  Blackberry is huge on security, so understandably they are marketing this as a way to keep your information safe (and I should also mention that BBM is supposedly a safer platform to text on than WhatsApp), but it has become a trade-off.  It's nice to scan in my emails and have all my contacts immediately (whether they want me or not) or add someone just from their phone number.  PINs simply aren't as convenient.  BBM has made this as painless as possible, you can add friends with QR codes or NFC as well, but nevertheless, it's an added step that I'm not particularly fond of.  But evidently some people place privacy and security quite high on their list and I can imagine this is a pro for them.
Current Problems
There was a bit of a fumble last month when the app was scheduled for release.  A large number of Android users side loaded a leaked version of the app which caused server problems.  Of course, in the heated smartphone world, there's a lot of conspiracy talk about buying time, but that's for your own speculation.  Even though this point has become moot the effects of this fumble have made some lasting impressions. For one, the media has been quite critical over this release and I've seen some very emphatic and unprofessional rant posts as well (sadly, on well reputed tech blogs).  The release is obviously being scrutinized as the initial downloads are simply insane.
But more than anything, Blackberry has decided to implement a queue system.  This has irked a lot of users who complained about the long wait, and understandably are frustrated that BBM is so tantalizingly close, but unavailable.  I can certainly understand the decision, any large influx of users is a challenge, and as a company that has received incredibly bad press, anything to minimize errors is a good idea.  But the frustration is not unmerited, the queue system is not an ideal situation to be, and frankly my own contacts list is quite a bit shorter than it would have been if the full app was ready on day 1.  To circumvent this pesky queue, read the introduction for two tricks that will help you jump the line.
The Future
Anyone that uses a Blackberry Z10 will notice a few features missing from the Android and iOS versions of BBM.  Those are BBM Video and BBM Voice.  BBM Voice is simply a call feature that uses WiFi or your data plan.  BBM Video is Blackberry's version of FaceTime where you can make a video call to your contacts.  But more interestingly, BBM Video includes a Screen Share feature that will allow you to share what you see on your phone with your pals across the internet which will certainly be useful.
A feature that is still in beta for even the Z10 is BBM Channels.  BBM Channels is Blackberry's take on social media, where you can publish content that can be shared worldwide or with your closest friends securely.  You channel could be subscribed to, commented, etc all with tight integration with BBM.
If these features sound great, then you're in luck, all of these features are headed to the multi-platform versions of BBM.
Conclusion
It's hard to say whether BBM can tackle on the massive, wide spread use of WhatsApp.  I'm certain the people over there are pacing around their offices trying to figure out the same thing.  But I think BBM is an interesting platform that has the capability to revive itself.  To the nay sayers that love the line "too little, too late", I have to respectfully disagree.  BBM does deliver a superior experience, and it evidently has hordes of its old userbase willing to give it another shot.  It comes down to whether the difference is enough to spark a change.  I'm hopeful that enough people are willing to set aside the irrational hatred for Blackberry and give it a shot.  It deserves at least that much.