Phoenix Wright Trilogy HD iOS On Sale $4.99
Ace Attorney: Phoenix Wright Trilogy HD was a remake of the first 3 entries Nintendo DS hit Ace Attorney series.  The series is well known for their clever, memorable dialogue and compelling stories that are revealed through the process of investigations, testimonies and court trials.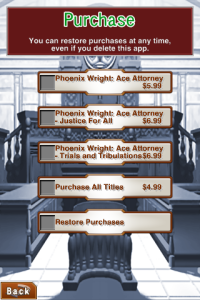 The trilogy was already generously priced at $16.99 for the entire series (instead of the $39.99 per title on the Nintendo DS).  It is now on sale for $4.99 for Thanksgiving.
The iOS remake includes new graphics and sound to scale up to the iPad's gigantic screens.  While I am not a fan of the new art direction, the game has not changed enough to alter my stellar opinion of the series.  This is a great way to pick up an instant classic.  For people already familiar with the series, you'll be pleased to know that you can pick up exactly where you left off on the Nintendo DS.  You have the option to play any case of the three games and even pin point which part of the investigation or trial you want to start at.