Pokemon X and Y get Fancy Pattern Vivillon
In celebration of reaching a landmark 100,000,000 Pokemon trades on the Global Trade System, the Pokemon Company is giving away a unique "Fancy Pattern Vivillon" to Pokemon X and Pokemon Y players.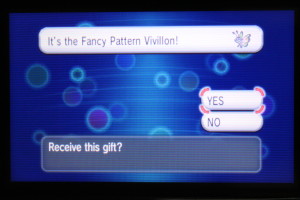 As of this post, there are 20 known Vivillon patterns.  The original 18 patterns are found based on geographic location, and there are two additional patterns that are being distributed in this event and another.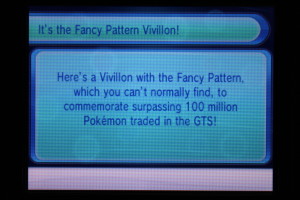 Vivillon has also appeared in competitive play a number of times.  Key moves for the Pokemon include Sleep Powder and Quiver Dance.  It could be a good candidate for actual use rather than just a trophy Pokemon stuck in your PC.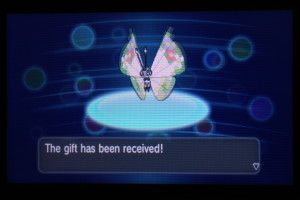 To claim the Pokemon, the official site details the instructions as follows:
To get the Fancy Pattern Vivillon:

1. Connect your Nintendo 3DS system to the Internet.
2. Select Mystery Gift on the main menu.
3. Select Receive Gift, then Yes.
4. Select Get Via Internet, then Yes.
5. Watch as you receive Fancy Pattern Vivillon!
6. Speak to the delivery girl in any Pokémon Center to receive your Vivillon.
7. Be sure to save your game!
The whole process is quick and painless, taking no more than a minute of your time, so be sure to get it today.  It'll only be available until July 31, 2014.