PAX Prime – Super Smash Bros, Phoenix Wright, Street Passes
Today I was in Seattle, attending the last day of PAX Prime and thought I'd share some thoughts on a few Nintendo 3DS related booths.  First and foremost, I dropped by the Nintendo area and had about ten minutes of playtime with Super Smash Bros 3DS.  The demo went through both the Classic mode and the new Smash Run mode.  My first impression is that the game looks great.  In a lot of press images that are blown up to computer size, the character models look a bit blurred and the outline is a bit thick.  On an actual 3DS console, the effect is quite different, and the overall game looks much smoother on such a low density screen.  Classic mode came nice and easy, I played as Donkey Kong at first and was able to score a quick victory.  Controls seem intuitive enough, and the formula is more or less unchanged from a casual player's standpoint.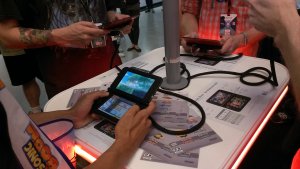 On the other hand, Smash Run was a bit unintuitive.  I had a bit of trouble figuring out which buttons went with the doors and exactly where it was I wanted to go.  I wouldn't be surprised if these were minor issues that would be solved after 10 minutes with the game, but it just wasn't the immediate Smash Bros feel that the Classic mode offered.  There was a lot to take in and the demo clearly wanted to put a good amount of content in a short amount of time; in short, I was overwhelmed.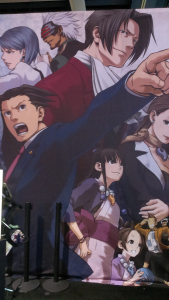 I was shocked to see Capcom's Monster Hunter 4 3DS demo.  Unfortunately I wasn't able to get past the lines to get my hands on the game.  I was also surprised to see Phoenix Wright get a small section for itself.  It was left unattended and completely void of onlookers, but to have several consoles with the game running is an achievement for the series.  They had a demo of the HD remake of the first 3 games.  It included the Japanese language option and I have a sneaking suspicion that it might just be the retail Japanese version that included English.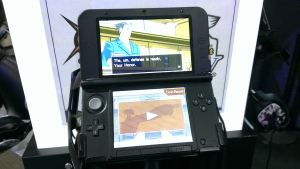 The highlight of my day was definitely the Nintendo handheld lounge.  This was a designated area for people to bring their Nintendo 3DS handhelds and play against each other in a variety of different games.  I just ran up my Mii Plaza and increased the population by about 100, but also got a ton of little gifts for a variety of games.  I forget just how great the street pass feature is for these conventions as people were playing on their 3DS consoles left and right throughout the event.  It should be noted that the 2DS seems rather popular too.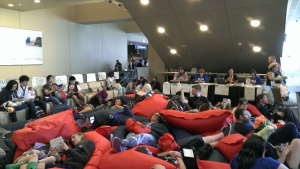 The event is obviously not geared for handheld, but the 3DS is trucking along quite nicely and working its way in.  Alongside these big titles, there was plenty of copies of Pokemon Art Academy and videos of Pokemon Omega Red and Alpha Sapphire around.  There was also quite a gathering around a single 3DS running Theatrrhythm in the Square Enix booth.  Unfortunately nothing new was announced, but I'll be back again next year to see what's new.