Microsoft Surface 3 Impressions
Earlier this week, Microsoft announced the Surface 3, the successor to the regular Surface line which will sell side by side with their Surface Pro 3.  If you don't remember the regular Surface series, it's completely understandable.  The Surface 1 and 2 were cheaper and lighter versions of the Pro siblings, but the kicker was that they ran Windows RT which was unable to run regular x86 Windows applications.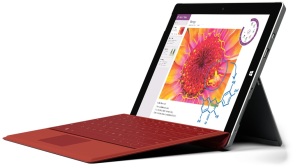 The Surface 3 seems to correct most of the concerns and looks to be a genuine contender.  First of all, it runs the full Windows 8.1 (and will be upgraded to Windows 10 for free on release).  This means that you'll have access to the limited app selection in the Windows Store, but also the huge library of PC applications ranging from League of Legends of Microsoft Office.  Asides from that, it is priced at a very reasonable $499 USD and up (and a not so reasonable $639 CAD).  It is roughly 20% lighter and sports a 10.8 inch screen instead of the 12 inch found on the Surface Pro 3 model.  All this is possible because it is running a weaker Intel Atom x7 quad core processor.
All this boils down to a different device aimed at a different target.  The Surface Pro 3's tagline was a tablet that could replace your laptop.  With the Surface 3, I don't think it can do that.  You won't try to run high end PC games on this device, nor will you use the 10.8 inch screen exclusively for all your word documents.  Instead, they are going back to what tablets are about.  It's cheap, light and portable.
While I was trying out the device, it ran very smooth across the demos, and feels like it can handle a bit more than the Intel Atom brand lets on.  It's also nice that they've kept support for the Surface Stylus for art enthusiasts even though it is a separate purchase now.  The overall size of the device is quite comfortable and portable.  The size is just enough so that I might walk around with it, whereas the Surface Pro 3 is simply too large.  The most impressive factor is the new Type keyboard.  They've done a really nice job with the keys which have a satisfying click after each press now.
I wish I could go on, but as a demo the thing that stood out most is the sizing.  It feels a lot more portable that the Surface Pro 3 without shrinking it too small.  I think they've got a good winner on their hands.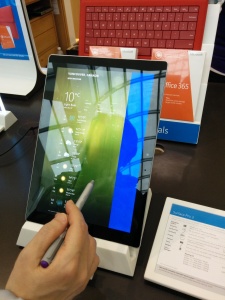 (Note there is a sign on the left indicating this is Surface 3, and there is a Pro 3 device to the right of the image.)