Nintendo Direct 01/14/15 – New 3DS, Majora's Mask, Monster Hunter 4, Fire Emblem
Today's Nintendo Direct was hugely anticipated by North American viewers.  The timing was right for us to finally get our hands on the New Nintendo 3DS.  As with any product launch, there was a lot of speculation about what might get announced alongside the release date.  Naturally, we heard a lot about Majora's Mask, but there were even some rumors flying around about a new Metroid game.
The major highlight of the day is that the next iteration of Nintendo 3DS consoles are coming out on February 13th in both Europe and North America.  Europe will get both the New Nintendo 3DS and the XL model while North Americans will only get the XL model at launch.  I've covered my thoughts of the New Nintendo 3DS in the past, but to neglect the smaller model is a missed opportunity.  I've juggled back and forth between the two sizes and I think the slightly larger screens on the regular model brings it to an acceptable size.  The interchangeable faceplates are fun and portability is a factor for a lot of people.  The real issue seems to be that AC Adapters are not included for whatever reason.  It'll cost a few extra dollars to buy a off-brand charger which will add to the cost.  If you have been following the New Nintendo 3DS since the Japanese launch, none of this should surprise you.
The surprise of the day was the release date of both Monster Hunter 4 and The Legend of Zelda: Majora's Mask has been set for February 13th as well to coincide with the launch of the New Nintendo 3DS.  It's a good way to launch and February 13th may have been roughly the right date for Monster Hunter 4 but is quite a bit earlier than expected for Majora's Mask.  Along with some good games, Nintendo will be pushing out two limited edition bundles, one for each of the two games.  The silver of Monster Hunter 4 is nice, but North Americans will more likely purchase the gold Zelda device.  I'm not a huge fan of the design, I think they are beginning to lose their touch when you compare it to the gorgeous detailing on the Ocarina of Time 3DS.  Even so, the limited edition Majora's Mask New Nintendo 3DS is sold out in the states and being resold on eBay for more than twice the price.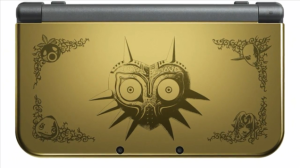 The announcement was quite long, and to summarize what I didn't cover in depth, there are new waves of Amiibo figures.  They will interact with Mario Party 10, Kirby and the Rainbow Curse and Captain Toad Treasure Tracker.  Pokemon Shuffle, a free to play puzzler will be released on the eShop sometime in February for the 3DS.  We also got some information about Project Treasure and Ironfall.  Additional footage and information was given for Puzzle & Dragons Mario Edition, Xenoblade Chronicles X, Mario vs. Donkey Kong Tipping Stars, Blek, Citizens of Earth, Gunman Clive 2, Moon Chronicles, Etrian Mystery Dungeon, Story of Seasons, Fossil Fighters Frontier, Codename STEAM, Ace Combat, Xenoblade Chronicles 3D.